Here at ARF we feel strongly that the heartworm positive dogs have been abandoned twice. First by their family who did not give them heartworm prevention medicine, and then left them at a shelter, in most cases a very high-kill shelter, where their chances of ever finding a home are next to nil. We are committed to giving these animals the best possible chance at a loving and safe home. The first step is to get them well! Here are just a few of the precious souls who have been helped through ARF's Heal a Heart program:
---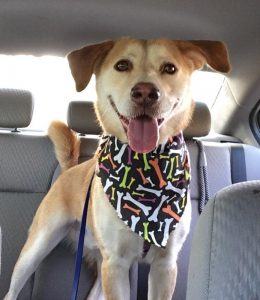 Dusty
Who rescued who? This was the bumper sticker that finally made me relent after months of a persuasive teenager showing me photos of dogs that needed to be rescued. We started by making a check list and deciding the best way to make this happen. During the early phases of talking to friends and family Animal Rescue Front's name came up again and again so Chris was my first contact and she immediately reassured me she would help us navigate this process. Before long we were introduced to Dusty, a beautiful lab mix who was on his way to be euthanized when Animal Rescue Front intercepted this and brought him to safety. Chris was supportive, very knowledgeable and a very calming presence during the time of planning how and when Dusty would arrive in New England. As the weeks went by we prepared for Dusty and the excitement was felt by all, and when we finally met him at the animal shelter it was love at first sight. We couldn't believe that after all the waiting we could finally put him in the car and take him home.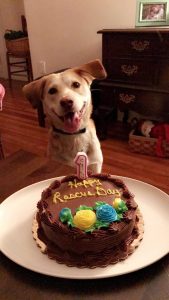 The transition was easy, we loved Dusty immediately and we wondered how we lived without him. Dusty went from shy and reserved to a happy, always smiling dog that seemed to realize life had just begun for him. The days became filled with walks, and social visits, a check-in with the vet, days at the park and a home filled with things that showed Dusty had a forever home. Life was so good until the day everything changed. While I prepared for work I heard Dusty cry out and ran to find him collapsing in a lifeless heap onto the floor. I knelt by him, calling his name, realizing he was slipping away. Within minutes my daughter and I jumped into action, as she carried Dusty into the car, cradling him to her, crying his name and urging me to hurry to IVG Animal hospital.
The news from the doctor was dismal, Dusty was critically ill, they were working on him to the best of their ability but we had the chance of losing him….this is the story of heartworm!!! My daughter and I sat in the waiting room, heartbroken and scared. Instinctively I dialed Chris, and I needed someone to give me advice, someone who could help. I can never express how grateful I am for Chris. She immediately took over, spoke with IVG and stated every life saving measure was to be done for Dusty , she spoke to consultants, she called in specialists , arranged a meeting with the Mississippi team who cared for Dusty and said all bills would be paid. Her advice to me – love him, care for him through his treatment and we will do the rest.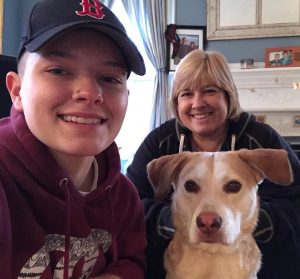 Heartworm treatment is hard on a dog, the medicine is like a poison and the crate rest so hard on an active pup but we made it a priority to do anything we could to keep Dusty quiet, safe and well during his treatment. We became experts on heartworm disease and we also became advocates for monthly heartworm prevention as we counted down the days before he was out of danger and spent countless hours keeping him quiet. We had constant contact with Chris and she never stopped worrying about Dusty.
On the last part of treatment Dusty suffered another severe reaction to the Immiticide, and again we raced him to Angell Hospital where he was rushed into ICU and placed in oxygen. Again I made the call to Chris and again she was the one who never wavered, supported us, advised us, took care of all Dusty's bills and was the constant strength we needed. There is no way I could have ever found a better rescue than Animal Rescue Front. The dedication to the pets they save is unbelievable and I will always be so grateful for Chris because without her we wouldn't have Dusty.
So now I know the answer to who saved who? It is Chris, and in return we promise we will love and care for Dusty every day of his life for she gave us a priceless gift.
---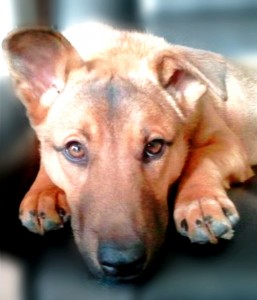 ADOPT : POSITIVE
By Steve Archambault
My fiancé Sarah sent me a link to a pup's profile on ARF's site one evening in late November 2011. I clicked on it and onto my screen popped a picture of the most handsome little devil I had seen since first setting eyes on Bogie years ago. This pup had the most beautiful smile and deep, brown eyes that were truly mesmerizing to look at. Although it was just a picture or two I knew deep down the feeling I had looking at him was the same kind of connection I felt with Bogie. I was on the phone the next day with ARF's Executive Director Chris McLaughlin. This actually turned into my interview as part of the screening process for potential adopters unbeknownst to me. She told me however that "Chip" was headed toward another family already. What was supposed to be five or ten minutes turned into forty-five as I shared with Chris my story of Bogie and my connection with this pup I wanted to rescue. By the end of the conversation she made an executive decision to give us Chip instead.
A few days before the southern transport was to leave from Louisiana to NH I received a call from Chris. She informed me she had just found out that our little boy from the south was heart-worm positive. This would mean that at 8 months old he would need to have his activity drastically reduced, no fraternizing with other dogs, and a strict regimen of medicine for at least six months until he could be tested again. Even after six months of treatment there was no guarantee he would test negative which would mean yet another six months of the same thing. She then asked me a question I'll never forget…"Do you still want to adopt him?"
I suppose I'll never forget it because I really didn't understand why she would ask me that. Right away I said "Of course we do Chris!" and she went on to explain that some people just don't want to deal with something like that with a rescue. I couldn't even fathom that people with a heart big enough to rescue an animal would even think twice about doing so just because they had to "deal" with something. Sarah and I didn't give it a second thought. We couldn't wait to meet him and look into those beautiful brown eyes and give him his new home and new name…Koda.
Rescuing a pup is one of the most fulfilling things one can do. I truly believe they know they've been rescued and have an even stronger bond with their people because of it. With Koda it seemed a little extra special because he needed a little more from us. His meds, his routines, and his limited activity simply meant more time with us and although hands down one of the biggest babies ever, he's also been the best decision we've ever made together. He's been the PERFECT pup.
It was never Koda's fault he was Heartworm positive and he never asked for it. None of them do. It just takes a little more time, energy, and love to see them through it and help get them to their "healthy place" where they all should be. Rescuing is about giving a beautiful, loving pup the home and love they all want and need, not if they are Heartworm positive or not. Most importantly it's about giving them what they deserve even if it means getting them over a "bump." A bump is all it ever was to Sarah and I.
Adopt positive. The experience will ALWAYS be just that.
---