Heal A Heart
Here at ARF we feel strongly that the heartworm positive dogs have been abandoned twice. First by their family who did not give them heartworm prevention medicine, and then left them at a shelter, in most cases a very high-kill shelter, where their chances of ever finding a home are next to nil. We are committed to giving these animals the best possible chance at a loving and safe home. The first step is to get them well! Here are just a few of the precious souls who have been helped through ARF's Heal a Heart program:
"I have had dogs all my life, Ben, my first, was 10 months old when I was born, I was 14 when he passed. Labs have always been my favorites, my last Sonny was an extraordinary dog with a zest for life, always happy, and I'm convinced loved to make people laugh. He was unfortunately plagued with a varied amount of medical issues, all treatable and we were happy to help him every step of the way. We put him to sleep a few years ago and to say I was just broken is an understatement.
Tim, my husband, also an insane animal lover, knew we both had to spend a little away time from another dog, Sonny while the love of my life
(don't tell Tim) took an emotional toll so getting another dog was a long time away, or so it seemed. We had rescued all our dogs. All had different personalities and we loved every single one, so my friends would send me pictures and it was not long before I saw a handsome chocolate face starring at me on the internet. I still was not ready but something kept me going back to the ARF site and at Ringo.
I spoke with Lisa and explained our situation. She was concerned, attentive and only wanted the best for all of us, especially Ringo. It wasn't long
before I had made arrangements to visit him down south.
He was smaller than I expected. Most of my labs had been 100 lbs plus but I was immediately drawn to him. While he was a little nervous, he was happy and very energetic and I knew I would have to be the one to take care of him. Paula, at the MS rescue was just great. I have to admire all the hard work and love that they have for all the animals, and I know I could not do what they do, but I could do my part by adopting Ringo.
At the time Ringo had all his physicals and passed everything with flying colors, but I got a phone call a few weeks before his adoption day. Lisa
informed me that Ringo's latest heart worm test came back positive.
I am fully aware of the attention and care that is required for a heart worm positive dog. My concern was getting him treated where he would have
the care he needed, and the least amount of stress. A positive heart worm diagnosis shouldn't be a death sentence for any dog unless it has been left too long. We are committing ourselves for a lifetime to any rescue dog, 8 weeks of care is nothing in the big picture, besides you get to bond with your dog even more closely than you could ever imagine.
For me, I wanted Ringo to be treated by my vet and my husband and I would take care of Ringo throughout the whole process. Lisa and ARF agreed that would be the best thing all around and supported us both emotionally and financially. ARF was fantastic along with their whole team. Ringo is the love of our lives and having a dog around, well, it just seems right. Please don't ever worry about rescuing a heart worm positive dog. The shear joy you will have from rescuing your best friend will make all the bad disappear, I know. I'm still a little bit broken, we all know that every time we lose our best friend a little bit of us goes with them, but Ringo and your new best friend will go along way to bringing happiness back.
So thanks to ARF and your team for not just help healing one heart, but healing two.
Love Ringo , Vanessa, and Tim"
---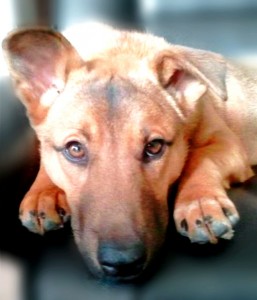 ADOPT : POSITIVE
By Steve Archambault
 My fiancé Sarah sent me a link to a pup's profile on ARF's site one evening in late November 2011. I clicked on it and onto my screen popped a picture of the most handsome little devil I had seen since first setting eyes on Bogie years ago. This pup had the most beautiful smile and deep, brown eyes that were truly mesmerizing to look at. Although it was just a picture or two I knew deep down the feeling I had looking at him was the same kind of connection I felt with Bogie. I was on the phone the next day with ARF's Executive Director Chris McLaughlin. This actually turned into my interview as part of the screening process for potential adopters unbeknownst to me. She told me however that "Chip" was headed toward another family already. What was supposed to be five or ten minutes turned into forty-five as I shared with Chris my story of Bogie and my connection with this pup I wanted to rescue. By the end of the conversation she made an executive decision to give us Chip instead.
A few days before the southern transport was to leave from Louisiana to NH I received a call from Chris. She informed me she had just found out that our little boy from the south was heartworm positive. This would mean that at 8 months old he would need to have his activity drastically reduced, no fraternizing with other dogs, and a strict regimen of medicine for at least six months until he could be tested again. Even after six months of treatment there was no guarantee he would test negative which would mean yet another six months of the same thing. She then asked me a question I'll never forget…"Do you still want to adopt him?"
I suppose I'll never forget it because I really didn't understand why she would ask me that. Right away I said "Of course we do Chris!" and she went on to explain that some people just don't want to deal with something like that with a rescue. I couldn't even fathom that people with a heart big enough to rescue an animal would even think twice about doing so just because they had to "deal" with something. Sarah and I didn't give it a second thought. We couldn't wait to meet him and look into those beautiful brown eyes and give him his new home and new name…Koda.
Rescuing a pup is one of the most fulfilling things one can do. I truly believe they know they've been rescued and have an even stronger bond with their people because of it. With Koda it seemed a little extra special because he needed a little more from us. His meds, his routines, and his limited activity simply meant more time with us and although hands down one of the biggest babies ever, he's also been the best decision we've ever made together. He's been the PERFECT pup.
It was never Koda's fault he was Heartworm positive and he never asked for it. None of them do. It just takes a little more time, energy, and love to see them through it and help get them to their "healthy place" where they all should be. Rescuing is about giving a beautiful, loving pup the home and love they all want and need, not if they are Heartworm positive or not. Most importantly it's about giving them what they deserve even if it means getting them over a "bump". A bump is all it ever was to Sarah and I.
Adopt positive. The experience will ALWAYS be just that.
---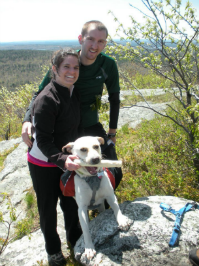 Isaac: We were heartbroken when we found out that Isaac, the dog we planned on adopting was heartworm positive, but with some hesitation we adopted him anyway. ARF started his treatment, answered all of our questions and offered financial support to continue the treatment. Ten months later we had him retested and his heartworm was gone! Our vet says that she wishes all of her patients were as healthy as Isaac!

---

---